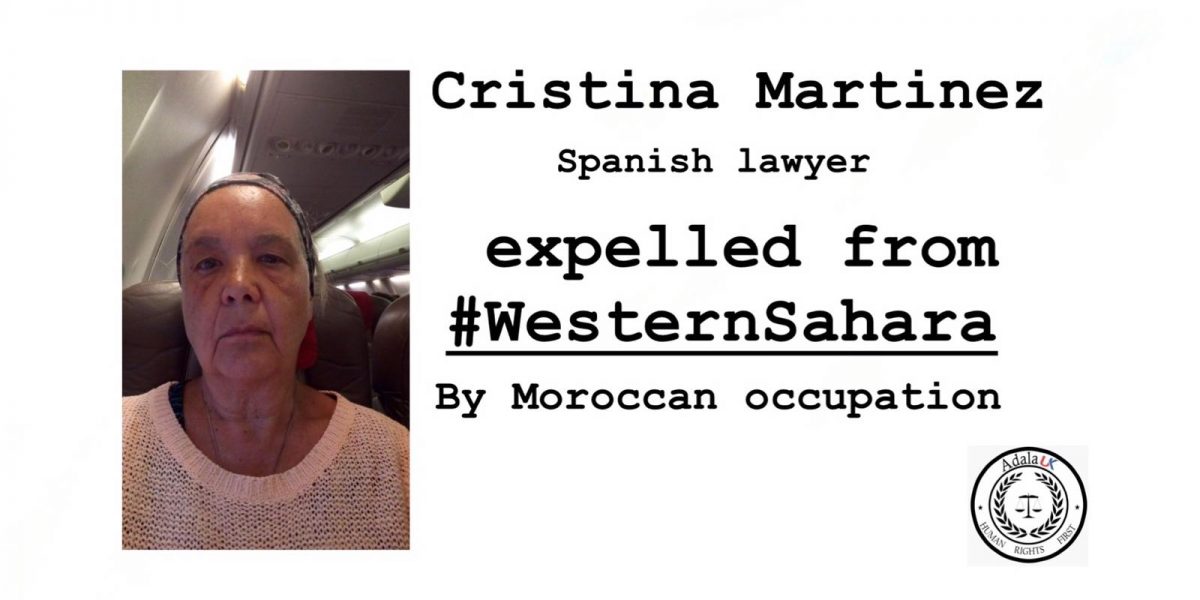 International observer expelled from Western Sahara
Once again, Morocco has stopped an international observer from entering Western Sahara. Spanish lawyer Cristina Martinez was travelling to the capital El Aaiun in order to observe the trial of a group of young men who were detained for participating in a peaceful protest on 19th July. She was stopped on the evening of 6th August as she was going through passport control on her arrival in El Aaiun from Casablanca. When she asked to contact the Spanish consulate in Rabat she was told that she should immediately board a place that would return to Casablanca and that the Spanish consulate had nothing to say in the matter. When she arrived back in Casablanca, her passport and boarding passes were taken away and she was taken to a hotel inside the airport, without windows, and with a police officer guarding the entrance. When she was able to contact the Spanish consulate, she was told by them that this was a normal process, that her passport would be returned to her and that there was nothing they could do.

Until now, Cristina Martinez had never encountered any problems in travelling to Western Sahara and she had previously accompanied a group Sahrawi delegation returning from visiting the refugee camps at Tindouf, Algeria, and attended other high profile trials. So far this year, ten lawyers from Spain, travelling to Western Sahara as international human rights observers have already been expelled by Morocco. This raises serious questions and indicates that Morocco is trying to stop any investigation into the legitimacy of trials of Sahrawi citizens in Western Sahara.

Additional information about the trial which Cristina Martinez intended to observe:On 19th July, a large number of young Sahrawis organised celebrations following a victory of the Algerian football team, which turned into demonstrations in the major cities of Western Sahara that continued throughout the night. Eight Sahrawi and one Moroccan participant0 were arrested and held in custody for 48 hours before appearing for the first time in front of the investigation judge on 21st July. Their detention was extended by 24 hours, after which the magistrate sent the group to the local El Aaiun prison. Their trial took place between 24-31 July.
Read full Adala' report here.
---