Adala UK: alarming increase of repression of demonstrations in Western Sahara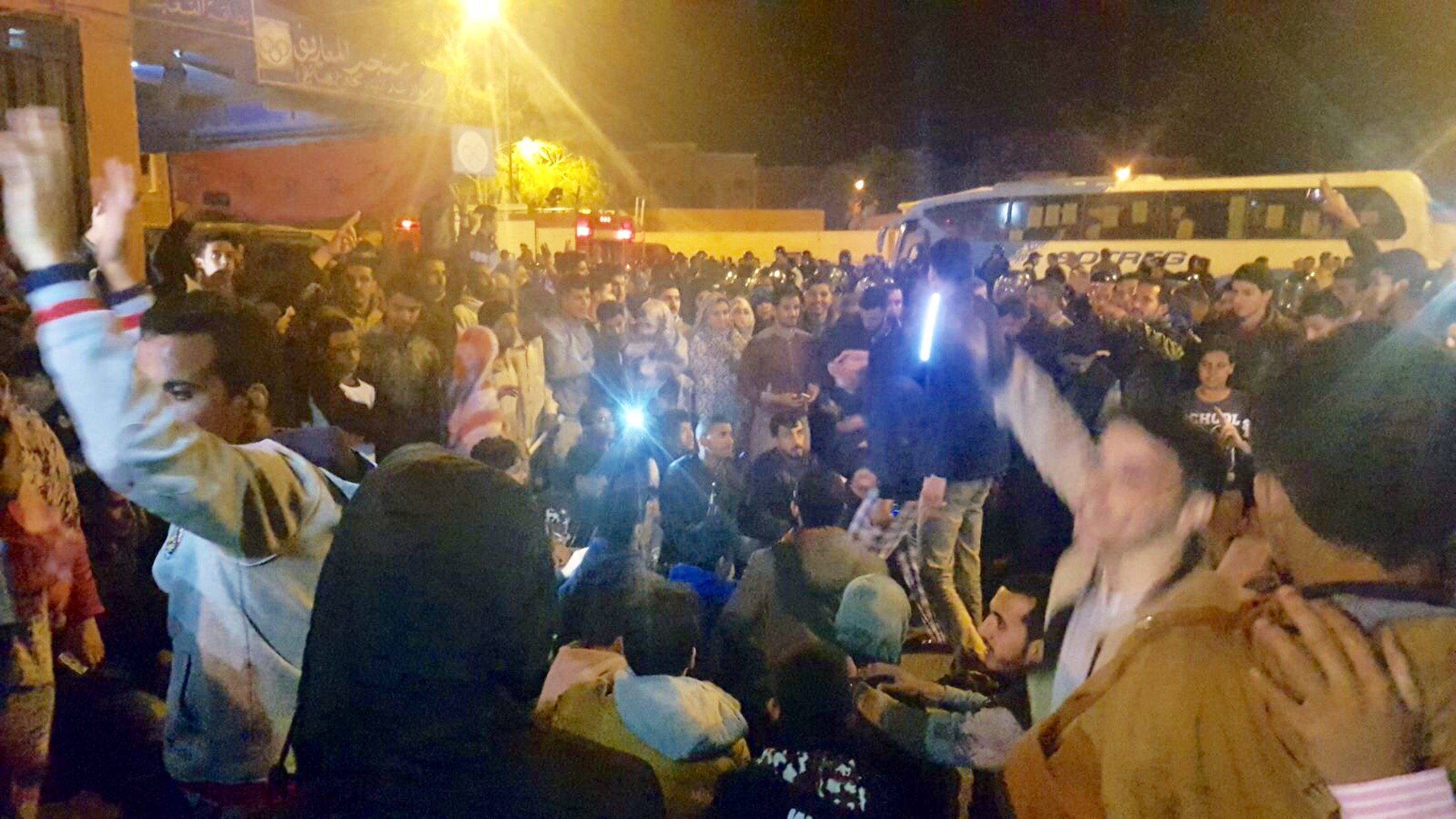 Last Thursday 23 March, a group of unemployed individuals demonstrated peacefully in Laayoune, in the Occupied Territories of Western Sahara. In view of the brutal repression with which the Moroccan forces responded to the demonstrators, Adala UK demands that the Moroccan authorities carry out complete, impartial and independent investigation of the human rights abuses committed and that all liable individuals are brought to justice.
The protests started in the early afternoon when a group of 200 people gathered to protest against the marginalisation and denial of their right to a decent job by the Moroccan authorities. The work situation in the Occupied Territories is particularly hard for Sahrawi citizens, as jobs created by the Moroccan government are always allocated to Moroccan citizens, both settlers and individuals who commute from Moroccan cities. Demonstrators also protested against empty promises made by the Moroccan government: over two years ago the Government promised that 1000 new jobs created in the occupied territories would be available to Saharawis, but they were eventually given to Moroccan settlers and citizens.
https://youtu.be/WHHggKfZCx4
Excessive use of force
According to witnesses interviewed by Adala UK, the Moroccan security forces resorted to an excessive use of force to suppress the demonstrations. At least 27 people were injured and 11 are in a critical state.
Demonstrators interviewed by Adala UK described how protests, which started peacefully in Smara Street, one of the main avenues in Western Sahara's capital city, turned violent. Members of the security forces used water cannons and threw stones at the demonstrators. A group of demonstrators who tried to continue their protests on a bus was brutally assaulted by the security forces, who kicked in the doors and windows of the vehicle targeting protesters with water cannons which left some in a critical state.
The Moroccan security forces have a distressing record of abusive and arbitrary use of force against demonstrators. The lack of accountability for such violations, including torture and detention, gives them the green light to continue mistreating individuals who exercise their right to demonstrate peacefully.
Sahrawi witnesses of the demonstrations in Laayoune
According to witnesses and other evidence gathered by Adala UK, security forces used stones, batons, metal sticks, and beatings against the unemployed demonstrators. One of the persons hurt during the incident, MS, is in a critical state after being beaten up by the police. He has severe injuries to the neck, back and face. demonstrators
"They started to push us, then to throw stones and water, and then they intervened in a brutal way, we wanted to save the girls, but it was impossible. We heard the girls shouting while they were being stepped upon and some of them were also stripped of their clothes. They reached and hurt some of the demonstrators that were around me. I saw my colleagues fall because of the water cannon, and they followed us in their armoured cars through the alleys", one witness affirmed to Adala UK members.
Another person who witnessed the incident said: "they even followed us through the alleys, security forces also followed demonstrators that tried to shelter in the houses in the nearby alleys. Some citizens recorded how a group of police officers in plain clothes beat up one of the demonstrators who tried to seek refuge in a house. The officers used punches, batons and they also ran over one boy and left him paralyzed on the ground before abandoning him". (Watch Video)

Security forces dealing with demonstrations must respect international law at all times, including when protests turn violent or when they are considered illegal by the authorities. According to international regulations, the use of force is prohibited except when it is strictly necessary to fulfil their duty. In this case, force must only be used to the extent that us absolutely necessary, and in any case, the use of stones and beatings is completely prohibited.
Unemployed Sahrawi demonstrators detained
A total of 4 unemployed individuals were detained and are now awaiting their official charge of 'trying to disturb public order'. They also face other charges such as harming police officers, protesting without authorization, destroying public goods and belonging to a criminal band. All these are crimes under Moroccan law.
Adala UK condemns the repression of protests against the systematic poverty the Sahrawi people endure in the Occupied Territories. Adala UK urges the Government of Morocco:
– to undertake judicial investigations into all human rights abuses allegedly committed during and after the protests.
– to judicially investigate each case in an independent and impartial manner, callingwitnesses to make declarations
– to guarantee the court unrestricted access to all the pertinent information, including official documents and all images and videos recorded during the protests.
– to guarantee all those responsible for aggression, torture, mistreatment and other attacks against persons and goods are tried according to international law and that international standards of a fair trial are applied.
It is very important for the people living in Western Sahara that inApril 2017, the UN Security Council includes human rights monitoring in the MINURSO's mandate. This would be a huge step forward in tackling human rights violations in Western Sahara.
---