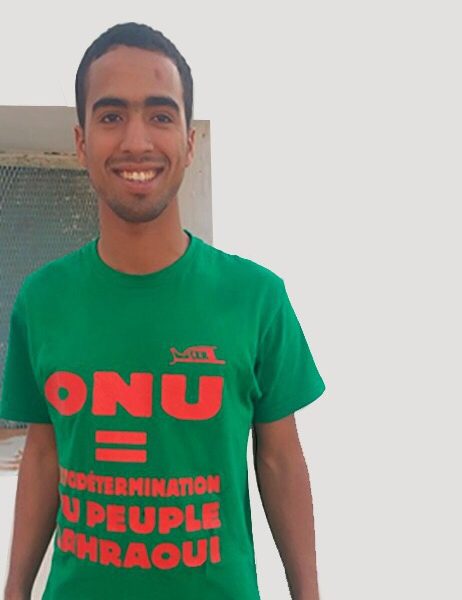 Western Sahara: Limiting freedom of expression – the case of Salah Labsir
Salah Labsir is from the city of Smara in the occupied territories of Western Sahara. His family still lives there. Between 2005 – 2013 he worked as a media correspondent. At the same time, he actively participated in peaceful demonstrations for the self-determination of Western Sahara. His political opinions are the reason why he started to be persecuted by the Moroccan regime, including forceful entry to his parents' house on several occasions.
In 2013, a search warrant leading to Salah's capture was issued by the Moroccan authorities, because of his work as a journalist and political activist. For safety reasons, he decided to travel to the Tindouf refugee camps to stay with family members there. Two years later, in June 2015, he returned to occupied Western Sahara to visit his family in Smara. He had an Algerian passport and therefore felt more secure, whilst being aware of the consequences his return might have. In a video, filmed just before leaving for Smara, Salah Labsir anticipates his detention. He talks about being worried about the brutality with which the Moroccan police and government operate. In the video, he asks that 'international human rights organisations take the necessary steps' should he be detained. He concludes by saying 'This is the every-day situation in Western Sahara'.
Salah was detained by Moroccan forces on his arrival in El Aaiun on 6th June 2015, and taken to an unknown location. Amongst other things, he was accused of 'premeditated violence against the police and destruction of public property' in the city of Smara in 2013. According to his lawyer, the court was unable to produce any evidence for these charges. These are the same accusations that political activists from Western Sahara are routinely accused of. He was also accused of entering 'Morocco' (referring to Western Sahara) with an Algerian passport, although he was detained in El Aaiun, and not at the border control.
In 2016, Salah was condemned to 4 years in prison, for having participated in peaceful demonstrations. He appealed, but his sentence was confirmed by the court of appeal on 25 May. His lawyer told Adala UK that the court was still unable to prove the charges against him.
The journalist is held in Ait Melul prison in Agadir, one of the worst prisons in Morocco. On 31 May 2016, Salah went on hunger strike in protest against the sub-standard prison conditions, i.e. inadequate medical attention, food and hygiene, not being allowed to receive the food his family sent to him, and being held in isolation. His family visits had been restricted to 15 minutes per week, for a family who has to travel more than 600km from El Aaiun to Agadir. He therefore demanded to be transferred to another prison.
Salah was detained in an isolation unit for several days as punishment for going on hunger strike to protest against the conditions under which he was being detained. On 30th March 2017, Salah terminated a 12 day hunger strike which he had entered into because the prison administration had for no reason stopped his subscription to continue his studies.
On 14th February of this year, Salah, who continues to be detained at Ait Melul prison, again suffered harassment and abuse from the prison administration, the denial of provisions and food. Moreover, his family was humiliated and insulted. His family continues to be denied regular visits to him in prison. In this context, Salah again appealed to international organisations to condemn the abuse treatment of political prisoners in Morocco, despite the country being a signatory of the UN Convention against Torture.
Adala UK believes that Salah Labsir was solely detained for his activities as a journalist and political activist, supporting the Saharawi cause and criticising Morocco's human rights violations. Journalists in Western Sahara are particularly vulnerable to human rights violations and often suffer arbitrary detention and torture. Reports that Adala UK receives about this and similar cases, indicate an alarming rise in the limits to freedom of expression. This clearly conveys the message that it is not allowed to document or criticise human rights violations in the occupied ter
---