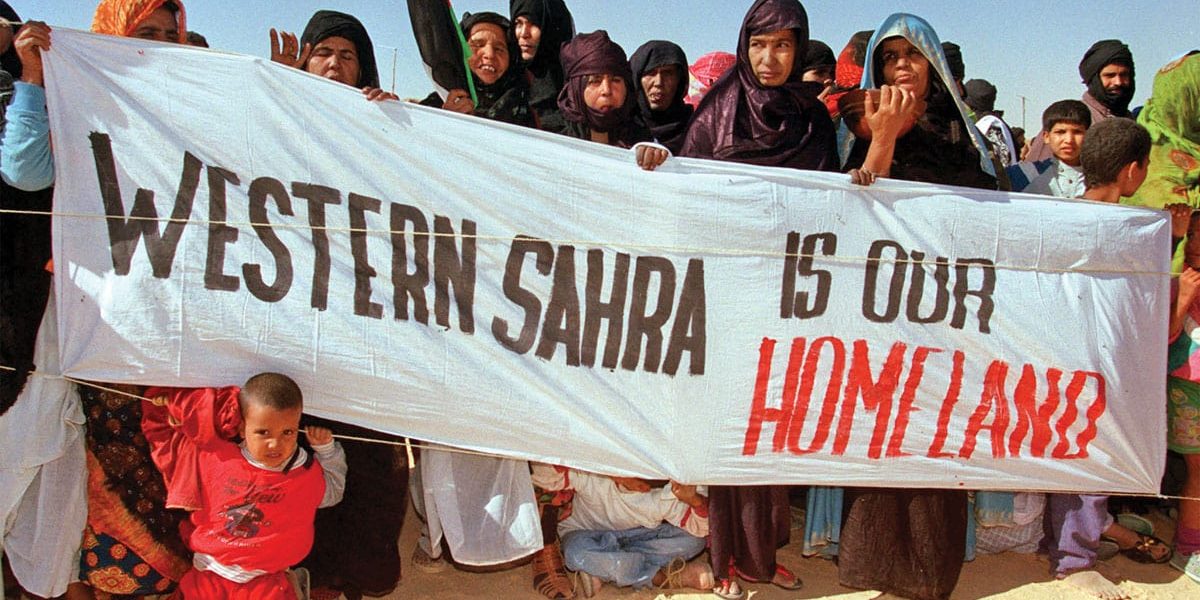 Newsletter: Fedruary 19, 2018 | An update on recent events in relation to Western Sahara
Saharawi Refugee Camps
Norwegian Support Committee, Western Sahara Resource Watch and Western Sahara Campaign UK hold workshop in Boujdour Camp to discuss natural resources.
Western Sahara Campaign UK is expecting the outcome of their court case in the European Court of Justice on 27 February. This court case calls into question the current Fisheries Partnership Agreement between Morocco and the EU. The expected outcome, based on the Advocate General's opinion on the case, which was released on 10 January, will be a positive step forward for reducing the financial incentive that Morocco has to continue its occupation of Western Sahara. WSCUK and WSRW are working with the Saharawis in the Refugee Camps to work out how the Saharawis can best respond via social media to the court ruling when it comes.
Refugee Camps prepare for the Sahara Marathon 2018 and the Sahara Rise Conference
The last week of February this year will be a busy one for the Saharawi refugees as they are simultaneously working on a new conference on peaceful resistance (Sahara Rise on 24, 25 and 26 February) and this year's Sahara Marathon (26 February) before the annual celebration of the declaration of independence on 27 February.
New Cooperation between the Saharawi Committee for Human Rights and the Algerian National Human Rights Council
The Sahrawi National Committee for Human Rights signed a memorandum of cooperation with the Algerian National Human Rights Council (CNDH) the aim of strengthening and consolidating cooperation and exchange between the two organisations. A high-level delegation of the Algerian CNDH has been on a working visit to the Saharawi Refugee Camps, headed by its President, Benzerrouki Fafa Sid Lakhdar, and also including the Secretary General of the Council, Abdul Wahab Marjana, Buseid Zahari, Chairman of the Standing Committee on Civil and Political Rights and Rapporteur of the Commission on Civil and Political Rights.
Solidarity
Western Sahara Action Forum launches new campaign in run-up to MINURSO vote
Each year, in April, the UN Security Council must vote to renew the MINURSO mission in Western Sahara. Each year the solidarity movement attempts to put pressure on Security Council members to take on its duty to include a human rights monitoring mandate in the mission. Western Sahara Action Forum, led by Western Sahara Campaign UK leads on the lobbying on an annual basis to bring the issues of human rights and the plundering of natural resources to the forefront of the discussions in the UK Security Council. Find out more here.
Natural Resources
Western Sahara Resource Watch secures big victories for Saharawi People
WSRW's unending work in the Occupied Territories of Western Sahara has seen some big results for the Saharawi in the last month. Canadian company Nutrien announced that its multi-million dollar imports of phosphate rock from Western Sahara to Vancouver is stopping. The company, formed from a recent merger between PotashCorp and Agrium manages the export of half of the phosphate rock leaving Western Sahara illegally. Just a week earlier, the Swiss/UK multinational Glencore, one of the world's largest companies, also departed Western Sahara. It was the largest foreign company present in the territory, and one of very few exploring for oil. Both companies have ceded to the bad press they have received to being party to activities in Western Sahara that violate international law.
Occupied Territories
Repression of protests by Saharawi activists
According to Adala UK, the Moroccan authorities continued to stifle peaceful protest in the Occupied Territories of Western Sahara, dispersing peaceful protests and prosecuting and restricting Saharawi activists who advocate self-determination or report human rights violations. According to Adala, the Moroccan authorities have allowed the police and security forces in the Occupied Territories of Western Sahara to use excessive force against Saharawi protesters. The authorities continued to restrict the right to freedom of peaceful assembly. In February 2018, police forcibly dispersed peaceful protests by Saharawi human rights NGOs in El Aaiun, and other cities, beating protesters with batons and stones and injuring more than 27.
Journalist's trial delayed further: Reporters without Borders calls for charges to be dropped
Reporters Without Borders (RSF) has called on Morocco's judicial authorities to drop serious terrorism charges dating back to 2013 that are still pending against news website editor Ali Anouzla, who appeared in court in December 2017 only to see the hearing postponed yet again.
Anouzla is facing up to 30 years in prison on charges of "material support for terrorism," "justifying terrorism" and "incitement to commit acts of terrorism" in a September 2013 post on Lakome, the website of which he was then the editor. He spent five weeks in provisional detention before being released on bail on 25 October 2013, since then the case has to be heard. Hearing has now been postponed until 22 February, 2018.
"The Moroccan judicial system's conspiracy against Ali Anouzla must stop," said Yasmine Kacha, the head of RSF's Tunis bureau. "We call for the withdrawal of the baseless charges against this journalist, who was one of RSF's 'information heroes' in 2014. Use of the terrorism law to prosecute journalists violates Morocco's constitution and its international obligations to protect the right to inform." Morocco is ranked 133th out of 180 countries in RSF's 2017 World Press Freedom Index.
Human Rights Watch World Report 2018: Morocco and Western Sahara
According to the report: "The political process for self-determination of Western Sahara, a territory under Moroccan control, remained stalled with little international mediation or attention. Morocco proposes autonomy under its continued rule but rejects a referendum on independence. The government systematically prevented gatherings in Western Sahara supporting Sahrawi self-determination."
"A new trial before a civilian court of 24 Sahrawis accused of involvement in the deaths of policemen during 2010 clashes resulted in their conviction and lengthy prison sentences, an outcome similar to the one in their first trial before a military tribunal. The trial was tainted by apparent due process violations such as the reliance on testimony allegedly obtained under coercion without properly examining allegations of torture."
"Authorities continued throughout 2017 to restrict the activities of Morocco's biggest independent human rights organization, the Moroccan Association for Human Rights, and of international human rights groups seeking to conduct research visits.
"The government has continued to impose a de facto ban on research missions by Amnesty International and Human Rights Watch since 2015, despite relative unimpeded access of the two organizations for nearly 25 years before then."
"As in previous years, authorities expelled several foreign visitors who came to witness human rights conditions in Western Sahara or attend human rights events there. On July 4, Spanish citizens Laura Moreno and Andrea Sáez, who had come to meet with Sahrawi human rights activists were not allowed to deplane in El-Ayoun and were sent back."
More information on the report can be found here.
---