Western Sahara: Moroccan forces attack protests with total impunity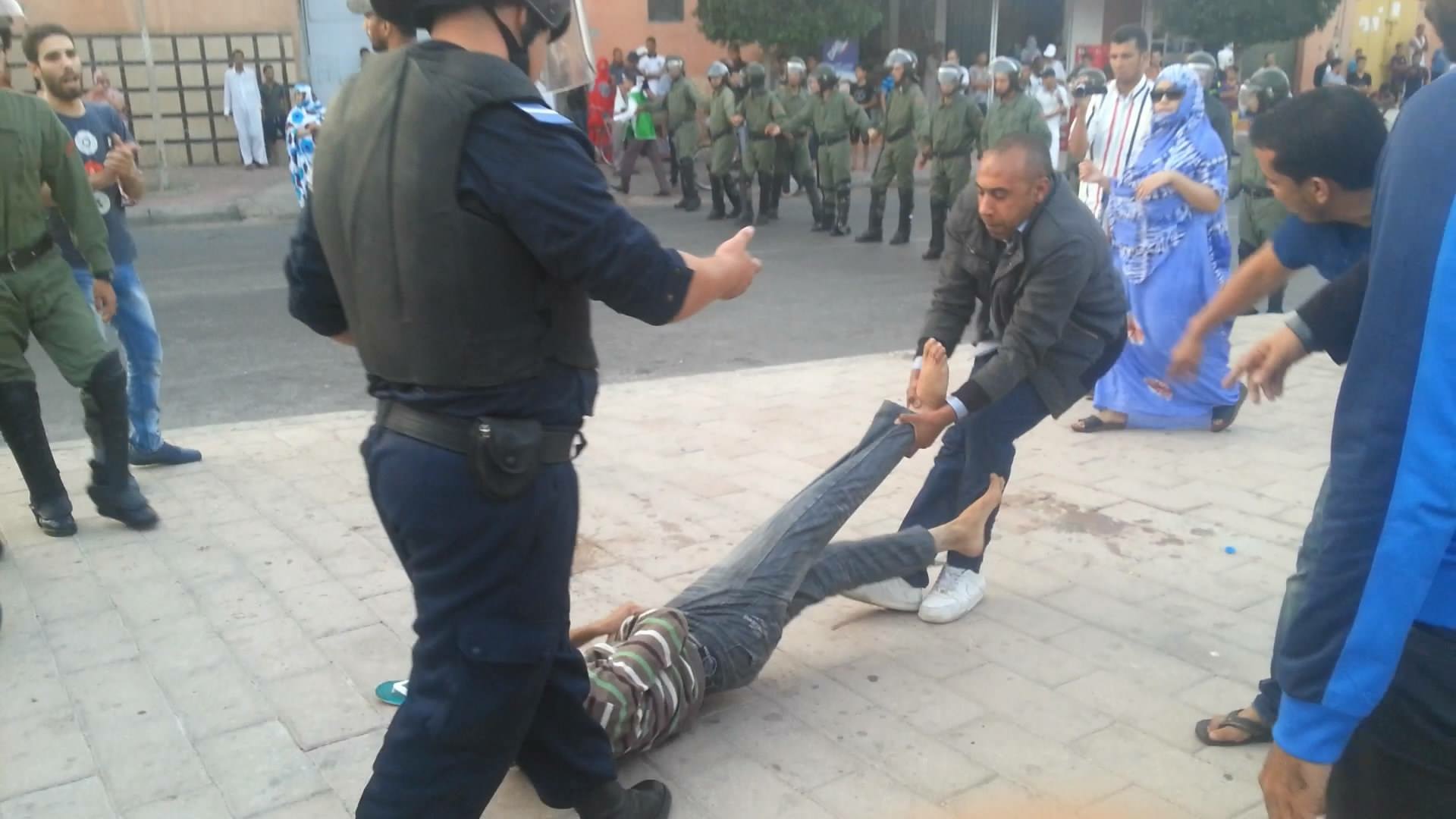 22 July: Moroccan security services violently broke up demonstrations by human rights defenders, political activists, unemployed graduates and students, arbitrarily detaining some of the protestors. The protestors were demonstrating against the exclusion of Saharawi workers from a Moroccan government initiative to offer 500 jobs in the OCP company.
"Following a promise by the Moroccan Governor that we would have priority when it came to these jobs, we were surprised that all Saharawis would be excluded. They always tell us that Saharawis will get priority for jobs in Western Sahara but these are hllow promises" noted Mohamad, a Business Administration graduate. "It's terrible that the Moroccan company OCP illegally exploits the phosphate in the occupied territories of Western Sahara, a territory which has been waiting for its decolonisation process without the UN lifting a finger, and the international community watching on whilst the native Saharawis are denied the rights to their natural resources, including the jobs mining phosphates" commented Brahim, one of the leaders of a group of unemployed graduates. Such groups have organised various demonstrations over the last few days, chanting slogans such as "our natural resources could provide us jobs", and calling for justice for Brahim Saika, who lost his life due to police torture, and the release of Hmato Lkawry who was arrested and sentenced to one year for his role in organising peaceful demonstrations in Smara.
The Moroccan government has released communications authorising security forces to 'maintain public order and social peace' in response to public gatherings and demonstrations in the cities of occupied Western Sahara. An investigation by Adala UK indicates that members of the security forces consistently use undue force against peaceful demonstrations, intervening violently. Moreover, some of those detained were not involved in the demonstrations in the first place. The Moroccan government should release all those arbitrarily detained following the protests. According to our sources, no accounts have been produced of these abuses of power, though complaints have been issued to the District Attorney's office, including cases of torture and the violation of fundamental human rights. Adala UK has documented so many cases of torture of this nature over the last four years. People have been subjected to indiscriminate violence, both in the street and, in some cases, whilst detained in custody. (SEE VIDEO).
This violence is accompanied by a state block on the press and on international observers attempting to enter the territory. On 20 July, the 23-year old German journalist Javier Zosbakhar was deported from Western Sahara for trying to conduct an investigation as part of his Masters dissertation at the University of Hanover regarding the situation in Western Sahara. A member of Adala UK described how he was followed and monitored by a group of plain clothes police officers following his arrival in the territory. "We saw that he was taken away in a car by a group of plain clothes police officers. A day later he contacted us to say he was being investigated and was deported to Agadir in Morocco". (VIDEO).
The international community must work together to collectively denounce the repression of demonstrations in occupied Western Sahara and must oblige the Moroccan government to bring members of the security forces who are responsible for violent acts against protestors to justice for their actions, whilst simultaneously freeing all protestors arbitrarily detained.
In April this year, the UN Security Council extended MINURSO for another year but did not include a human rights monitoring mandate. The UN must create a means by which human rights can be monitored in a sustained and impartial way to offer protection to a population who live under daily attack and suffer regularly at the hands of the Moroccan authorities.
---