Young Saharawi attacked and injured by Moroccan settlors in Boujdour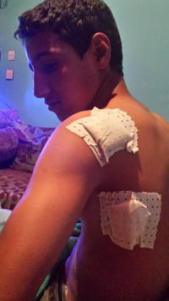 Ahbibi Mhamed, a young Saharawi, based in the city of Boujdour in occupied Western Sahara, was the victim of a violent attack last Saturday. According to eye witnesses, Ahbibi Hamed was leaving college when three Moroccan settlors started insulting him. They then started beating him and stabbed him several times with a knife, resulting in injuries all over his body. Following the attack, he was urgently transferred to the local hospital.
Although his family reported the incident to the police, no investigation into the attack has been carried out.
Following this attack, Adala UK heard from other Saharawi citizens living in the area, that attacks by Moroccan settlors on Saharawi citizens or Saharawis' shops are frequent and that these are never investigated by the police, despite official complaints.
The Moroccan security forces are obliged to investigate crimes against Saharawi citizens to protect the civilian population, whether Moroccan or Saharawi, and hold perpetrators to account; however, unfortunately, Adala UK has documented numerous violent incidents, across Western Sahara, predominantly against Saharawis, where no police investigation ever takes place.
---