Adala UK: one of many Saharawi voices speaking up for human rights in Geneva
Nearly 200 people, among them Saharawis and those in solidarity with the Saharawi cause,demonstrated in front of the United Nations offices in Geneva (Switzerland) on Friday 16th March to protest against the blockade in the Occupied Territories of Western Sahara and denounce the human rights violations committed against Saharawis. The Kingdom of Morocco continues to commit such violations due to the silence of the international community. This silence continues due to the total lack of any concrete mechanisms by which to resolve the conflict and condemn the Moroccan state for the violence that it commits against the Saharawi people.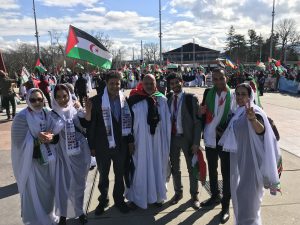 The demonstrations coincided with the celebration of the 37th Session of the UN Human Rights Council. In a statement signed by 30 organisations, it was noted that "the United Nations considers Western Sahara a non-self-governing territory which is still waiting decolonisation, referring particularly to the two thirds of the territory which have been occupied by Moroccan military forces since 1975. The Kingdom of Morocco has, for more than 40 years, impeded international forces from finding a peaceful solution to the conflict, and has prevented the Saharawi people from exercising their right to self-determination which is outlined as necessary in the first paragraph of international treaties on human rights".
Participating in the demonstration were members and representatives of various international civil society groups, some of which are from Geneva, as well as Saharawi Community Associations from different parts of Europe. Citizens from all over the world also took part, including people from France, Spain, Italy, Great Britain, the United States, Kuwait and Belgium among others. The demonstration took place in the Place des Nations where there is a sculpture of a giant chair with a broken leg, installed as a symbol of opposition to land mines and armed conflict against civilians.
During the demonstration, protesters called for the lifting of the blockade imposed on the Occupied Territories of Western Sahara. Demonstrators noted that although a ceasefire between the Polisario Front and the Kingdom of Morocco was called in 1991, Morocco continues to frustrate any initiatives by the the United Nations to organise a referendum for the Saharawi people. Morocco also continues to plunder the natural resources of Western Sahara and perpetrate human rights violations against the Saharawis, without being brought to account. Furthermore, Morocco seeks to change the demographic of the territory through policies of mass migration of Moroccan settlers to the lands of Western Sahara. Many Saharawis live in refugee camps in Algeria for this reason, separated from their land and their families by a wall of sand, constructed by the occupation, which is covered in millions of antipersonnel mines.
During the protest, people raised Saharawi flags and placards denouncing torture suffered by the Saharawis and the detentions of political prisoners and chanted slogans including: "No other solution, just self-determination" and "Freedom for Western Sahara".
"following 40 years of occupation the international community must carry out its obligations to the Saharawi people and allow the Saharawi people their right to self-determination, which has been promised by the United Nations since the 1960s. The Saharawi people must be able to enjoy their right to the freedom to choose because it is the only right which guarantees all their other civil, political and economic right, allowing them to choose their own political system which would put an end to this occupation."
One of Adala UK's members who was present said: "following 40 years of occupation the international community must carry out its obligations to the Saharawi people and allow the Saharawi people their right to self-determination, which has been promised by the United Nations since the 1960s. The Saharawi people must be able to enjoy their right to the freedom to choose because it is the only right which guarantees all their other civil, political and economic right, allowing them to choose their own political system which would put an end to this occupation."
---