Calls for the immediate release of soldier Ahmed Aliouat: victim of racism and an unfair trial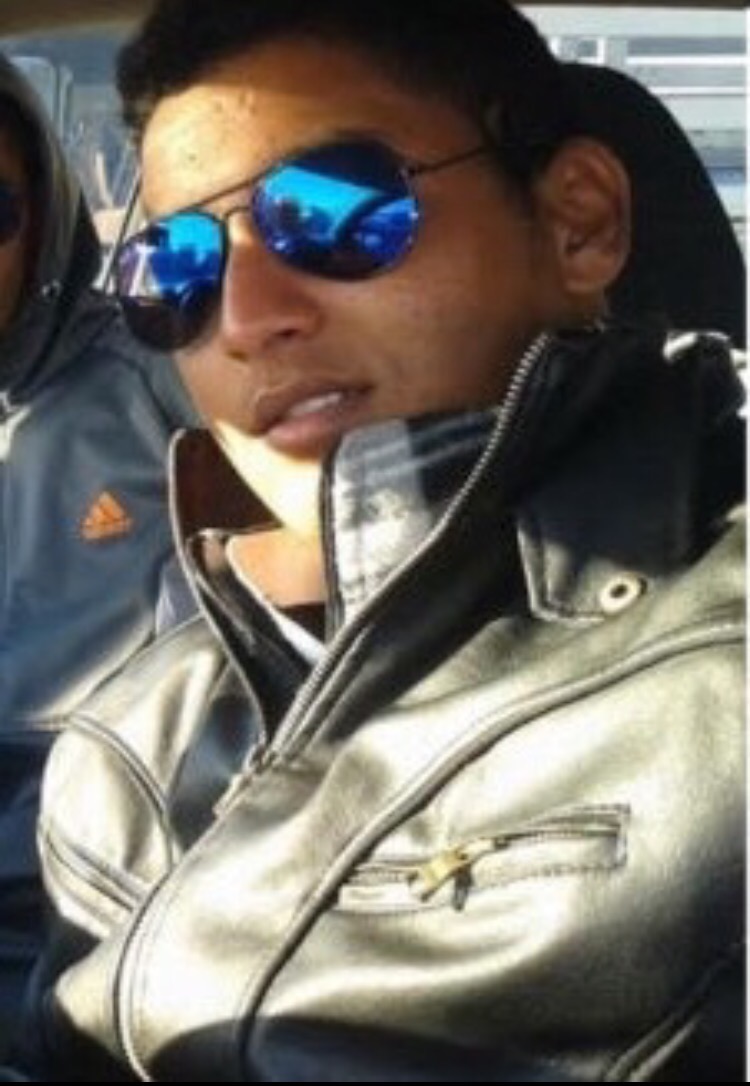 On 4 July, Ahmed Aliout was sentenced to life imprisonment by Moroccan military court. Ahmed is a soldier of Saharawi origin in the Moroccan army and was accused of communicating with 'the enemy' via social media networks. His case represents a cruel human rights violation and a huge miscarriage of justice. 
Racism and prejudice against Saharawis exists not only in the social sphere but also in institutions of the Moroccan state, including in all levels of the Moroccan military. The racism and maltreatment that Saharawis face is ignored by the state and reports of abuse are never investigated and those responsible are never brought to justice by the Moroccan government. There is a complete lack of procedure to ensure that Saharawis and people of Saharawi origin receive a fair trial without discrimination.
The case of Ahmed Aliouat reflects the way in which Saharawis and people of Saharawi origin run a greater risk of being accused of being 'traitors to the Moroccan Crown' by the justice system. At the same time, when accused they are less likely to receive a fair trial and the guarantee that their case will be thoroughly investigated.
The impact of these discriminatory practices by the Moroccan authorities is that the sense of injustice is not just limited to those who defend the right to the self-determination of the Saharawi people, but is also extended to any person who is of Saharawi origin and who speaks Hasania (the Saharawi dialect), even military personnel in the Moroccan army. The majority of cases that Adala UK has investigated affect Saharawi personnel in various Moroccan institutions and reveal the existence of real racism by Moroccan personnel and senior managers.
In April this year, 21-year-old Ahmed, whilst working in his role as a soldier, was approached by his commanding officer, Mohsin Saadaoui, who began to insult him for no reason and accuse him of being an 'enemy of the patrimony' and calling him 'Polisario Enemy', pushing him and threatening that he would have Ahmed locked up for having not done the cooking and other chores that the soldiers are tasked with doing. Ahmed told his family that Saadaoui said: "I'm in charge and you are a bad soldier and for that reason if I want to send you to prison I can do and there's nothing you can do about it".
Following these threats, Ahmed asked to be transferred to another barracks. The response that he received was that if he requested the transfer he would have to endure 15 days in solitary confinement and he would be fined $260 (2500DH) of his $416 (4000DH) monthly salary.
On 4 March, Ahmed was arrested and imprisoned in the military wing of the Salé Prison in Morocco. Ahmed then disappeared for 13 days during which time he was subjected to torture and interrogation. According to his family, he was detained in an unknown location and was prevented from communicating with anyone, including his family. His phone was permanently off and they were extremely worried. They initiated a search for him, contacting various Moroccan authorities and the general military barracks in the Occupied Territories of Western Sahara.
Following the 13 days of torture, he was then taken to Agadir and was subjected to a further 11 days of torture in a military police station. He was made to sign confessions which had been written by the Moroccan authorities.
On 6 March, a man who it is thought is from the barracks where Ahmed was arrested made a phonecall to his family in which he informed them that "the reasons Ahmed was detained were talking on Facebook about political issues with his Saharawi friends and family who are refugees in the Tindouf camps, as well as sharing videos and news about Western Sahara on his Facebook page". The family continued to search for Ahmed.
On 17 March, Ahmed's father travelled to the city of Dakhla in southern Western Sahara in an attempt to obtain information about his son. There the police informed him that his son was in the Moroccan city of Agadir, 1200km away, in order to sort out some paperwork. During his journey to Agadir, Ahmed's father received a call from the police to say that Ahmed was actually in Rabat, some 1600km away and that he would stand trial the next morning. Upon arrival, his father confirmed that he was not allowed to enter the courtroom for trial and that the guards prevented him from entering, stating that it was a 'private trial'. He only saw his son from the door of the courtroom at 11am in the morning as he was entering and at 5pm the same day as he was being taken away in a military vehicle. Later, the family were informed that Ahmed's trial had been postponed until 20 March, the same day as the Gdiem Izik Group, a trial that would have all the attention of Saharawi society. Ahmed's case would therefore slip under the radar. He had been missing until 17 March.
On 20 March, his family and the international media were all denied access to his trial. "Upon arrival at the courts, one of the guards gave us a document that looked like a prison visitor permit and told us that Ahmed had already been convicted by the court and confirmed that to find out his sentence we had to use the visitor permit and ask Ahmed what sentence the military tribunal had given him", a family member stated.
"This is not justice – first they want to try him on a Saturday, and after postponing it they tell us we can attend the trial, and today we arrive and they tell us that our son has already been convicted", added another family member.
On 21 March, Ahmed confirmed that he had not had his trial and that the guards had lied to his family about his sentence. His trial had been postponed until 4 July 2017.
The story was the same on 4 July with regard the denial of press and family into Ahmed's trial, though his father was eventually allowed to enter the courtroom. The prosecution presented their evidence which was Facebook Messenger chat history where they argued that Ahmed had been chatting with Saharawis from the Refugee Camps, discussing political issues, including sending Saharawi flags. The defence rejected the use of Facebook chat as appropriate evidence and argued that the prosecution had not been able to verify the usernames. The judge disregarded this line of argument.
"The judge told my son that the prosecution had proved that he had messaged people from the Saharawi Refugee Camps and my son replied that he would respond to anyone who messaged him wherever they were from. The judge replied that he mustn't even respond to people from the Camps.And my son asked how he could know where anyone was from just by seeing them on social media. And what was he doing wrong by politely responding to someone who was trying to talk to him. He told the judge he thought it was absurd that someone could be sentenced to life imprisonment for talking to someone on Facebook. He couldn't understand how this could be presented as real evidence in court", his father told us.
Ahmed and a fellow soldier were sentenced by the Military Court in Rabat for inciting civilians and military personnel to escape and 'join the enemy', in reference to the Polisario Front. The military court accused Ahmed and his friend of 'inciting defection to a rebel group'. They were taken to the military wing of the Salé prison in Morocco.
His fellow solider, Slaimani Simoh was arrested after military personnel found a piece of paper in his room on which was written "if the Polisario revolutionaries come, they will take us all". He was also accused of listening to a radio station broadcast by the Polisario in the Refugee Camps in Tindouf. He was also tortured over a number of days and forced to sign confessions under torture. The military police didn't allow him to read this confession before signing it, which had been the same in Ahmed's case.
This case shows the deficiencies in the Moroccan judicial system and is cause for concern regarding the impartiality of the Moroccan courts, especially given that this case was heard in secret. The use of life imprisonment in this way is the latest in a long line of regressive actions used by the Moroccan authorities in relation to human rights abuses.
Moroccan media outlets have released the story using the official line adopted by the government with regard this case. The official line is that the two soldiers were arrested four months ago by the Military Police following months of surveillance which had intelligence that they were in contact with 'parties close to the enemy outside of the national territory'. These false reports have been picked up by EFE (a Spanish agency) and are being reported in the Spanish press. These reports also state that the soldiers were inciting military personnel and civilians to join the Polisario Front. The same source states that the District Attorney's office sought the highest possible sentence for the soldiers, confiscated some of their property and the messages they posted on social media praising the Polisario and posts of the Saharawi flag. Most importantly, however, these reports state that the soldiers are not of Saharawi origin.
We must remember that Ahmed and his colleague were accused of these actions by their commanding officer, Mohsin Saadaoui, who was the only witness in the case. Two other witnesses were called for the defence and they testified to the good character of both of the men and stated that they had never been suspected of any wrong-doing and that they did not believe there was any truth in any of the crimes of which they were being accused.
On 5 July, Ahmed filed an appeal and asked for help from national and international NGOs and sought the help of a non-Moroccan legal team given that it is very difficult for a Moroccan lawyer to intervene in a case which is connected to the question of the Sahara. 12 Moroccan lawyers have already told Ahmed's father that they cannot get involved in the case for that very reason and that it would be dangerous for them. However, all these lawyers have been sympathetic to the fact that Ahmed, at such a young age, has been sentenced for so many years, and agree that the evidence from his Facebook chat should not be taken into account.
Ahmed was not allowed contact with his lawyers at any point, neither during hs arrest nor before nor after his trial. Ahmed had no idea why he had been arrested and confirmed that he had never disobeyed any orders or been part of any wrong-doing. He explained that he was often threatened by his commanding officer who had said he would put false accusations on him and ensure he was imprisoned. He was continually maltreated by his commanding officer, always making him be the one who did the washing in his unit and threatening him with rape if he didn't follow orders. The officer told Ahmed's fellow soldiers: "Ahmed is Saharawi and therefore will always be on the side of his people and Iam convinced that he will help the Polisario invade our territories". Other soldiers also explained how the officer always said he would ensure that Ahmed would be tried based on these accusations.
Adala UK urges the Moroccan authorities to retry Ahmed's case in a different court which meets minimum international standards given the existence of hatred and racism present in this case, the lack of evidence and the issues regarding the credibility of the witness and the forms of evidence used in the case.
The communications used as evidence and the use of illegal spying to obtain such evidence goes against privacy laws and reflects a violation of human rights by the Moroccan government. Justice cannot be brought if the case is based entirely on evidence from a social network 'chat' and on evidence extracted under torture and by coercion.
The complaints of discrimination and racism as well as those of torture that Ahmed has lodged should be properly investigated and those responsible should be brought to justice.
Morocco must deal with the discrimination faced by Saharawi people and people of Saharawi origin, including in state institutions, and put in place mechanisms to ensure that racism of this nature is no longer permitted to continue.
---